Cookie preferences
This website uses cookies, which are necessary for the technical operation of the website and are always set. Other cookies, which increase the comfort when using this website, are used for direct advertising or to facilitate interaction with other websites and social networks, are only set with your consent.
These cookies are necessary for the basic functions of the shop.
Customer-specific caching
These cookies are used to make the shopping experience even more appealing, for example for the recognition of the visitor.
Article successfully added.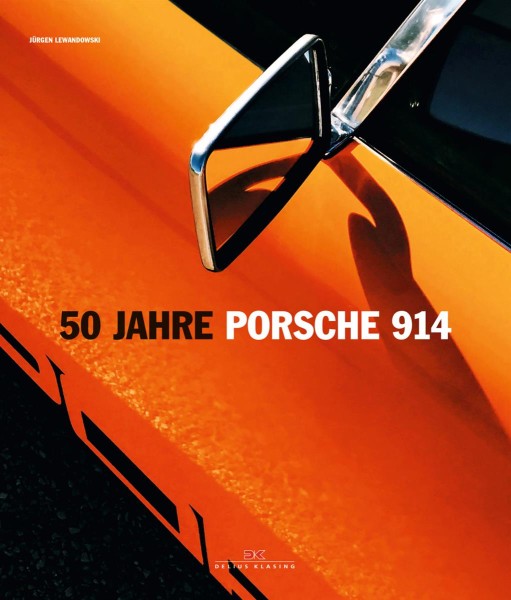 Prices incl. VAT; shipping costs are additional.
Ready to ship today,
Delivery time appr. 1-3 workdays in Germany.
911's little brother In 1969 a very special sports car was born. The 914 rose from a marriage of...
more
50 Jahre Porsche 914
911's little brother

In 1969 a very special sports car was born. The 914 rose from a marriage of convenience of Volkswagen and Porsche, because both companies wanted a small, modern and affordable sports car in their product range, but for little costs. Thus it was decided to combine the skills of both manufacturers.

The result was a light mid-engine sports car with a lively road performance and even 50 years after its launch, it pleases the eye with a fresh design. Back then it was often ridiculed as a "housewife Porsche" or "Volks-Porsche", but by now the 914 has come out of the shadow of its big brother 911 and has a huge fan base. Until today it lives on in the Boxster and Cayman models.

In this volume:
• the result of thorough research in the Porsche and VW archives
• richly illustrated
• all technical data
• development, production, model history and racing appearances

Technical details:
Publisher: Delius Klasing
Author: Jürgen Lewandowski
Format: 23 x 26.5 cm, hardcover
Pages: 224
Pictures and illustrations: ca. 250 in colour and black-and-white
Language: German
Related links to "50 Jahre Porsche 914"
Read, write and discuss reviews...
more
Customer evaluation for "50 Jahre Porsche 914"
From:
Thomas Nehlert
On:
26 Jun 2019
Endlich ein Standardwerk zum 914
Bei den Porsche-Kunden und -Fans war es nicht gerade eine "Liebe auf den ersten Blick",
als ihnen vor 50 Jahren der Porsche 914 präsentiert wurde. Aber selbst die größten 914-
Skeptiker werden dieses Fahrzeug nach der Lektüre des hier besprochenen Buchs mit
anderen Augen betrachten.

Erstmals wird durch den namhaften Automobil-Historiker und Buchautor Jürgen
Lewandowski die Entwicklung des als Gemeinschaftsproduktion von Volkswagen und
Porsche entstandenen Typ 914 so detailliert und vollständig dokumentiert, dass wirklich
keine Frage mehr offen bleibt. Der Verfasser hat in jahrelanger Recherche unglaublich viel
Material und Hintergrundinformationen zusammengetragen und zu einem Buch
verarbeitet, das ohne Übertreibung als Benchmark innerhalb der wahrhaft reichhaltigen
Porsche-Literatur angesehen werden muss. Dabei konnte er auf sein eigenes
umfangreiches Archiv zurückgreifen, das eine der größten Privatsammlungen automobiler
Druckwerke in Deutschland ist.

Das Buch ist in 13 Kapitel gegliedert. Im ersten Abschnitt beschreibt Lewandowski die von
jeher enge und schon familiär begründete Verbindung von Volkswagen und Porsche mit all
ihren Erfolgen und auch Krisen. Die ersten Überlegungen des VW-Konzerns zu einem
preisgünstigen Mittelmotorsportwagen in den 1960er Jahren werden ebenso eingehend
dargelegt wie die vertrauensvollen Kontakte zwischen Ferry Porsche und Heinrich
Nordhoff. Dennoch war die Entscheidungsfindung zum VW-Porsche mit zahlreichen
Meinungsverschiedenheiten und Hindernissen verbunden, die nach dem Wechsel von
Nordhoff zu Lotz auf Seiten VWs nicht geringer wurden. Insbesondere die Schaffung einer
Vertriebsregelung für den Mittelmotorsportwagen gestaltete sich schwierig, weil zu viele
unterschiedliche Interessen – nicht zuletzt auch aus den USA – berücksichtigt werden
mussten. Mit großer Akribie und fesselnd beschrieben, schildert Lewandowski im dritten
Kapitel die Problemlage und vermittelt dem Leser Hintergrundinformationen, die zum Teil
bisher unbekannt waren.

Zwischen dem ersten und dritten Kapitel analysiert Michael Mauer, der aktuell für das
Porsche-Design verantwortlich ist, in einem ausführlichen Interview die formale Gestaltung
des 914, die schon damals wie auch heute als optisch ungewöhnlich aber in hohem Maße
funktionell zu würdigen ist.

Die Entwicklung des 914 anhand der Vorgaben eines Anforderungskatalogs wird im
vierten Abschnitt in allen Einzelheiten beschrieben, und zwar sowohl in der Entstehung
des in der Bevölkerung als "Volks-Porsche – VoPo" bezeichneten Sportwagens als auch in
der Fortentwicklung über die Modelljahre 1970 bis 1976. Nicht minder spannend lesen
sich die folgenden Kapitel über den leider nicht über das Projektstadium und eine ganz
kleine Stückzahl hinausgekommenen 916 und den nur in zwei Einzelstücken für Ferry
Porsche und Ferdinand Piech gebauten 914 S, einen mit dem Rennmotor des 908
versehenen, äußerlich besonders zurückhaltend gestalteten 914 mit den Fahrleistungen
eines Supersportwagens. Am Beispiel des Projekts 916 und seines vorzeitigen Endes
wurde sehr deutlich, woran auch die Vermarktung des 914/6 mit dem Sechszylinder-Motor
aus dem 911 krankte – am einfach viel zu hohen Preis, nämlich sowohl im Verhältnis zum
mit dem Vierzylinder-VW-Motor ausgestatteten 914 als auch im Vergleich zum
preisgünstigsten 911.

Mit der Entwicklung des 914/6 GT und seinem Einsatz im Motorsport befassen sich die
Kapitel sieben bis neun. 1970 konnte diese ausschließlich für den Renn- und
Rallyeeinsatz konzipierte Variante insbesondere bei einigen Langstreckenrennen
überzeugen, nicht zuletzt mit einem sechsten Gesamtrang und dem Sieg in der GTWertung
bei den 24 Stunden von Le Mans und mit einem Triumph beim sogenannten
Marathon de la Route auf dem Nürburgring. Der auch intern bei Porsche nicht
unumstrittene Einsatz bei der Rallye Monte Carlo mit seinem eher mäßigen Erfolg führte
schlussendlich zum Abbruch weiterer werksseitiger Entwicklung des 914/6 GT für den
Motorsport. Allerdings blieb er aufgrund seiner hohen Zuverlässigkeit noch lange ein bei
Privatfahrern geschätzter Wettbewerbssportwagen, der sich auch als erstes Fahrzeug der
von Herbert Linge ins Leben gerufenen ONS-Streckensicherungsstaffel unschätzbare
Verdienste erwarb. Diesem Einsatzgebiet widmet Jürgen Lewandowski ebenso ein
eigenes Kapitel wie einem mit herrlichen Erinnerungen garnierten 914/6 GT-Fahrbericht
von Eckhard Schimpf.

Ein Höhepunkt des Buchs ist zweifellos der Abschnitt über einen nie über das
Planungsstadium hinausgekommenen Nachfolger des Typ 914. Unter Berücksichtigung
eines anspruchsvollen Anforderungskatalogs beschäftigte man sich bei Porsche bereits
1972 mit verschiedenen Umsetzungsmöglichkeiten für einen zukünftigen Einsteiger-
Sportwagen; favorisiert wurde das Frontantriebskonzept für einen deutlich geräumigeren
2+2-Sitzer mit verglaster Heckklappe. Allerdings wurde dieser Sportwagen nie Realität.
Stattdessen kam 1976 der Porsche 924.

Nach einem Blick auf mehrere Sondermodelle auf der Grundlage des 914 – vom durch
Albrecht Graf Goertz entworfenen 914/6 bis zum von Ital Design stammenden Tapiro –
wird der "Volks-Porsche" noch einmal abschließend aus heutiger Sicht der Dinge
gewürdigt – mit all seinen Erfolgen und den diversen Schwierigkeiten, die entstehen, wenn
zwei Werke mit unterschiedlicher Ausrichtung ein gemeinsames Ziel verfolgen.
Ein zehnseitiger Anhang mit den technischen Daten aller Modell- und Motorvarianten des
914 und eine Bibliografie schließen das Buch inhaltlich ab.

Gerade dieser Bibliografie kommt eine besondere Bedeutung zu. Denn Lewandowski hat
nicht nur die vollständige Sekundär-Literatur ausgewertet, sondern belegt seine
Ausführungen auch durch Zitate aus vielen grundlegenden Publikationen, hier sollen in
erster Linie und nur beispielhaft die Werke von Karl Ludvigsen, Paul Frère, Eckhard
Schimpf und Brian Long erwähnt werden. So ist es dem Leser auch möglich, in diesen
weiteren Quellen zu stöbern und sich selbst über das eigentliche Thema hinausgehende
Erkenntnisse zu verschaffen. Noch entscheidender als diese – heute leider nicht immer
selbstverständlichen – Quellenangaben dürften aber die vertrauensvollen Kontakte
gewesen sein, die der Autor nicht nur zum Historischen Archiv von Porsche, sondern auch
zum internen Kreis des Zuffenhausener Unternehmens bis hinein in den Familienverbund
unterhält. So war es ihm möglich, tatsächlich bisher im Verborgenen gebliebene Fakten
ans Licht der Öffentlichkeit zu bringen, die den bisher etwas vergessenen 914 in einem
neuen und überaus interessanten Licht erscheinen lassen. Besondere Erwähnung
verdienen insoweit interne Dokumente von Porsche zum Projekt 916 als auch zum
zunächst geplanten 914-Nachfolger, die hier mit Sicherheit erstmals publiziert werden.
Dabei ist es bemerkenswert, dass sowohl das Historische Archiv von Porsche als auch
das VW-Archiv unter der Leitung von Dieter Landenberger großzügig Material zur
Verfügung gestellt haben.

Zur Illustration braucht man nicht viele Worte zu verlieren. Rund 170 Aufnahmen, zum Teil
erstmals publiziert und ausnahmslos in bester Wiedergabequalität, verleihen dem Band
einen angemessenen Rahmen. Viele sind im großen Format gehalten und geben auch
technische Details wieder. Besonderen Reiz üben auch die für die 1970er Jahre so
typischen Ablichtungen aus der Porsche-Werbung aus. Das Buch ist sehr gut verarbeitet
und erscheint in attraktivem Layout. Angesichts der Tatsache, dass es bisher zum 914
keine vergleichbare Veröffentlichung gibt, und der Qualität der Umsetzung des Themas ist
dieser Band wirklich ein Meilenstein in der fast unendlichen Porsche-Literatur.
Write an evaluation
Evaluations will be activated after verification.